Couplings

There are many available ways to connect fibreglass pipes, for the application in the gravitational flux, as well as the pressurised pipelines. Joints must provide sealing against fluids and by their construction resist longitudinal forces.

Polyester pipes are connected with one of the following ways:

• Polyester coupling
• Metal coupling
• Butt-strap joint
• Flange

Polyester coupling

Polyester coupling is a symmetrical, two-part, sliding coupling made of fibreglass reinforced polyester. It is delivered with rubber sealing rings (gaskets) and a rubber profile, "stopper", which enables the right position of the pipe and coupling. They are positioned in coupling chamfers, which are machine-treated with high precision.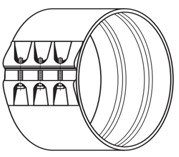 Metal coupling

Metal coupling serves to connect pipes and when making a reparation of a pipeline. It can be with an opening or fixed. It is comprised from a steel mantle with an internal, sliding, rubber gasket.
Butt-strap joint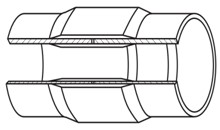 It is used for those joints which are to hold axial closing strain. The joint is made from fibreglass and polyester resin.
Flange joint

Flange joint is also a reliable possibility of demounting the installation in a later phase, if necessary. This type of joint is also suitable when connecting with pipes of different material, as well as with vents and various other metal framework.

Fittings

Polyester fittings are made from pipe segments. They are delivered with the same pressure class as pipes.

Assortment of the fittings is comprised from:

• T-pieces
• Forks: angular and concentric
• Elbows (arches) at any angle
• Reducers: concentric and eccentric
• Saddles
• F-pieces